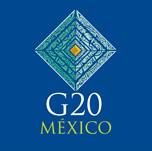 Priorities of the Mexican Presidency
Mexico City, December 13, 2011
[Espanol]
With the aim of providing increased certainty to the global economy, Mexico will set forth an agenda that seeks to address people's demands and concerns regarding the most pressing economic and financial global challenges during its Presidency. At the same time, Mexico will seek to make progress on policies in other equally important areas related to the well-being of the world's population.
With this goal in mind, Mexico will place special emphasis on the follow-up to previous agreements and their results, through the timely assessment of progress achieved and further actions to be taken.
Mexico has therefore established the following priorities:
Economic stability and structural reform for growth and employment.
Strengthening of financial systems and procurement of financial inclusion for economic growth.
Improve international financial architecture in a interconnected global economy.
Mitigate negative effects on price level and volatility of commodities, in particular those affecting food security.
Promote sustainable development with focus on infrastructure, energy efficiency, green growth and financing the fight against climate change.
Source: Mexican Presidency of the G20
---
All contents copyright © 2021. University of Toronto unless otherwise stated. All rights reserved.